Catholic High School League Football Returns to the Patriot This Fall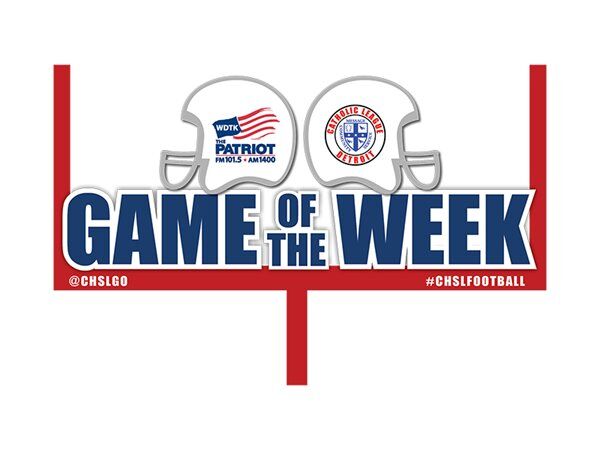 By Jeremy Otto, @JeremyOtto17
For the sixth straight season, the Catholic High School League Football Game of the Week will be returning to FM 101.5 and AM 1400 the Patriot. WDTK is proud to carry the best football the state of Michigan has to offer.
For the first time, two week one games will air on the station to kick-off the season. Up first is Orchard Lake Saint Mary's vs. Macomb Dakota Thursday August 29th followed by De La Salle vs. Muskegon on Friday August 30th. Both games will feature a 6:30 PM pre-game show and a 7 PM kick.
OLSM vs. Dakota will square off for the fourth straight season in week one. The previous three matchups have all been one score contests. De La Salle, the reigning Division 2 state champions, and Muskegon, the reigning Division 1 runner-up, will clash at the Xenith Prep Kickoff Classic on the campus of Wayne State University. Both squads are expected to challenge for a state championship in their respective divisions.
Jeremy Otto, Chad Bush, and Sean Baligian will return as the on-air game broadcast team. Otto has served as the main play-by-play voice of the CHSL Game of the Week since its inception and also calls Detroit Mercy basketball on television. Bush has served as one of the main analysts for the last five years along with filling in on play-by-play duties. Chad is also the long-time radio voice of Eastern Michigan University Basketball. Baligian returns as an analyst for his sixth season. He has served as the voice of Wayne State University Football on the Patriot for the past 11 years along with numerous other roles around Metro Detroit including pre and post-game hosting duties on the Detroit Lions Radio Network.
The Patriot is pleased to continue its partnership with the Student Broadcast Foundation to bring you the CHSL Drive Home Show after every game this season. The Drive Home takes a comprehensive look at games around the Catholic League and the state while hosting an impressive list of guests. Brendan Johnson will return for his fifth season as the main host.
Listen all season long on FM 101.5, AM 1400, patriotdetroit.com, TuneIn, and iHeartRadio. Follow us on Twitter (@CHSLGO) and Facebook (The Patriot Detroit FM101.5/AM1400 WDTK) for the most up to date information surrounding the game of the week including match-up coverage announcements.