"The Kid Detective" Review: Solid mystery has some dark twists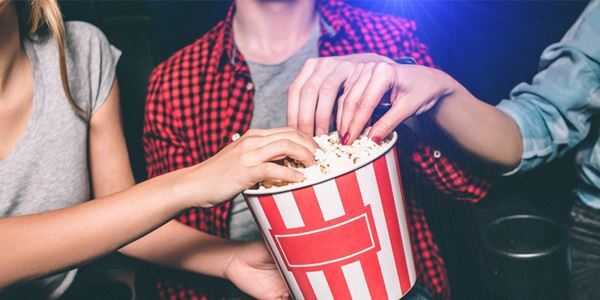 The title character in the new film The Kid Detective has a serious case of arrested development. Played predominantly by the grown Adam Brody, the character's professional career stems from his childhood obsession: solving neighborhood mysteries.
A kid solving mysteries from his treehouse is noteworthy and cute. The same person coasting on their glory days in adulthood is not.
That's the premise of this feature, which shows the title character as an adult but flashes back to his youth. Played by Brody as a thirtysomething and as a child by Jesse Noah Gruman, Abe Applebaum is a well-known fixture around town. As a child, he's viewed as a prodigy. As an adult, he's a has-been.
When the adult Applebaum is tasked with solving a murder case though, his life changes abruptly. No longer chasing missing animals, Abe rides around town with his client Caroline (Sophie Nélisse) hoping to find out who killed her boyfriend. The stakes involved are higher than he's dealt with before but Abe relies on his old tricks to help solve the case.
Even though Abe can't seem to escape from the past, the feature doesn't make him into an object of ridicule or mock him for his shortcomings. This isn't a cartoonish character played for laughs. Abe is sad, frustrated but undeniably relatable. Evan Morgan wisely presents him as an empathetic character who simply needs to move forward instead of clinging to his past.
A scene showing Abe at a police station nicely establishes that and Abe's relationship to the surrounding community, which once lionized his mystery-solving skills. "You can't run around calling yourself a detective and expect everyone else to play along," the police chief tells Abe.
Much of the first two acts focus on Abe and his murder investigation (flashing back at times a case from his youth) and the scenes slowly reveal more about the murder victim. Although Abe's investigation focuses on a murder, the investigation scenes are oftentimes set up as light-hearted ones, lacking the seriousness that one would expect from a drama but never offering the laughs that one would hope from a comedy.
However, in the third act, the film takes a dark turn as Abe's investigation goes further. There's an odd tonal shift as the light-hearted film about a former kid detective dramatically becomes something far more ominous and unsettling. The unravelling of the case comes with a few solid and surprising twists but the climax's dark tone here doesn't fit in with the rest of the story as well as one would hope.
Although "Kid" is in the name of the film, this new feature isn't for family viewings but it has its charming moments. Brody, who first rose to fame in The O.C., perfectly captures the personality of a man struggling with a sense of failure and ineptitude and the plot offers a few solid turns.
With a supporting cast that also includes scene-stealers Wendy Crewson and Jonathan Whittaker as Abe's frustrated parents, The Kid Detective has charm and personality to spare but the third act — which offers a solid but unexpected resolution — feels dramatically different than then first two acts.