"Jingle Jangle: A Christmas Journey" Review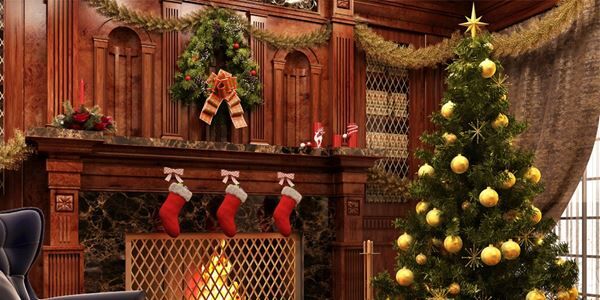 By John Hanlon
At the beginning of the new Netflix Christmas drama Jingle Jangle: A Christmas Journey, a kind-hearted grandmother (Phylicia Rashad) decides to read her grandchildren a holiday story. With her granddaughter tired of listening to The Night before Christmas, the grandmother reaches for a dusty old book to recount the story of a great inventor of yesteryear.
The feature then brings that story to life, introducing viewers to a brilliant young inventor named Jeronicus (Justin Cornwell) who finally makes a breakthrough in his toyshop. After receiving the final ingredient for his concoction, Jeronicus creates the toy of his dreams: a little figure that bursts into life. Crafted by Jeronicus, the Don Juan doll (voiced by Ricky Martin) convinces Gustafson (Miles Barrow), a young apprentice, to steal Jeronicus' designs and claim them as his own.
Gustafson's choice leaves Jeronicus and his family devastated and the beautiful color palette on display in the bright bubbly early sequences is quickly replaced with a dark and dusty new environment.
Years later, the once-optimistic Jeronicus (now played by Forrest Whittaker) becomes a heartbroken pawnbreaker. However, when his hopeful granddaughter Journey (Madalen Mills) comes to visit, Jeronicus starts to experience the magic he thought was long-gone.
Even when Jeronicus doesn't feel the magic though, this film still offers it to viewers who are looking for something fresh and new. Although some of the story beats are familiar, this film offers has a strong story, beautiful designs and songs that only add to its exuberance. John Legend and producer Philip Lawrence both serve as producers here and both of them worked on the memorable and upbeat music here. There's also a great new song from Usher.
The best song on the soundtrack though might be Magic Man G, performed by Keegan-Michael Key. The comedic actor stars as the older successful Gustafson, who has thrived using Jeronicus' stolen designs. Although he's not in the film as much would hope, the actor brings an ebullient spirit and energy to the film that fits in nicely, especially compared to Whittaker's more grounded performance.
Adding to the spirit of the film is the hopeful Madalen Mills, who makes her feature film debut. Mills brings a delightful, positive energy into the film and her scenes opposite the aspiring young inventor Edison (Kieron L. Dyer, who is also making his feature film debut here) truly shine.
Written and directed by David E. Talbert, Jingle Jangle is bright, beautiful and bursting with stand-out songs and characters. The feature isn't always upbeat though and there's a tragic element to some of the early scenes as Jeronicus faces some painful heartbreaks but the magic remains in him throughout and that's one of the film's key lessons. Even after suffering some terrible loses, there's always magic to be found if you're looking for it and that's something this film celebrates in its final act.
For people looking for something fresh, fun and exciting for the holiday season, Jingle Jangle is a strong choice.